Omega
replica watches uk
new Iron Fighter watch, whether from the
uk replica watches
appearance, performance and even price are impeccable, it can be said that this year's most cost-effective one watch. The
replica watches online
uses a 40 mm stainless steel case, concise and elegant design, this model uses a
rolex replica uk
vertical matte black dial, vintage hour scale surface coated with Super-LumiNova luminous coating.
Facilities - Grounds
Autrey Kennels: South
"In 1997, when I knew that I would retire and train dogs after retirement, I started looking for the right piece of property. We settled on 40 acres, 20 miles north of Alexandria, Louisiana, between Bentley and Pollock, in the Kisatchi National Forest, with a large home, big enough to entertain guests and visitors. There was a horse stable on the property that became the kennel. The hay barn houses both the dog truck and hay for the cattle that we run on the property."
Our home in Bentley, Louisiana is nestled in the heart of the state, surrounded by a national game management area. This is our primary home and kennel facility, as we are here from September through May.
In the winter of 2017 and into the spring of 2018, we remodeled the kennel. The kennel will now house 19 dogs. It's fully insulated with spray foam insulation. It is fully inclosed & is centrally heated & cooled. No matter how hot or how cold, our dogs are comfortable. Each dog is provided a dog house and a dog bed. The dog has its choice to sleep or rest on the bed, or in the dog house. Even though it is heated and cooled, an overhead ceiling fan is situated over every 2 kennels. The feed room located in the kennel allows for the storage of dog food and a place to wash dog bowls after every meal. With the water heater, we are able to provide warm water for the dog baths .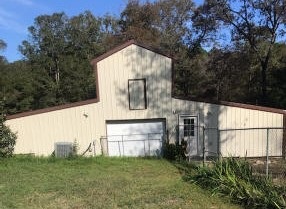 The lining field and "T" fields are next to the house. The forcing and swim-by pond is in the back yard. We have access to about 2000 acres to train on. This is hay meadows and pasture land that includes rolling hills, and some flat ground. The water we have access to is a mixture of technical water, stock ponds, and lakes. We have recently rebuilt our training ponds in the back to more than double in size and added 3 points on one side and 3 points on the other side of the main pond.
---
Autrey Kennels: North
We still go north for the summer. We find it is much easier to train up north out of the Louisiana heat & humidity. Polly and Jim built a new barn several years ago. This new building houses their living quarters and also kennels for 10 dogs. These inside kennels are centrally heated and cooled. At the same time, I have 10 outside kennels that I also use to keep the dogs in. I do not like having to keep the dogs on the truck at night to sleep. A new technical pond was added behind the barn several years ago. When the hunt test (AKC and HRC) in the south are shutting down, the hunt test in the north are just opening up. We normally run Minnesota, North Dakota, South Dakota, and Wisconsin while up north. I could virtually run every weekend from June thru September if I wanted to. With the ski slopes for hills and 14 ponds on the property, we very seldom leave the property for training. Lining fields and T-fields are all there at the house.

Two of our training ponds in MN:




One of our training fields in MN:


Slideshow of training grounds in MN: